You are a creative entrepreneur who is doing something beyond what everyone else is doing, and you have a spark that the world needs to see.
But the last photos you took for your business five years ago don't reflect who you are. You're using old images that follow a tired trend of wearing a blazer, holding a sparkly mug with a laptop in front of you, and crossing your arms in a photo because someone told you that that made you look like you own a business.
What you really want is the brightest greenest light to freely express yourself in the most unique and vibrant way possible.

You want photos that are as unique and creative as you are.

…and to somehow magically have the new clients, get the new customers, and have even MORE business growth than all the bossbabes are experiencing.

You think that your old photos and reels against a blurry background taken on a phone can soothe your creative soul and pull in new clients to work with you.
But what you actually need is to work with a creative professional photographer who can capture your energy and bring your "crazy" ideas to life so your ideal clients can find you because they vibe with the very reason for why you started your business.
Hi there! Joi Conti here and I'm a professional editorial, creative branding, and commercial photographer.
I graduated with a BFA from one of the best photography universities in the U.S., the Rochester Institute of Technology, and I've worked for fashion, still life, and editorial photographers in New York. I've spent over a decade honing my style until I found the real magic: pairing my artistic sensibilities with my clients' visions.
It's not just the Joi Conti show
It has to be Joi Conti + YOU


I am the go-to creative photographer in the Austin market photographing for well-known establishments like Austin Woman magazine and The Foundation for the Preservation of the Historic Millett Opera. I've produced and photographed for countless creative brands like BOXT, Thrillist, Anthropologie, Cinful Sweets, Solid Soaps, Gojema, B.D.F.O., Sarah Klein Coaching…and have work featured in Elle Magazine's Accessorie Issue. I'm a member and photography contributor to the Greater Austin Asian Chamber of Commerce, the Filipino Young Professionals chapter here in Austin, and the BNI Rock Your Biz Chapter.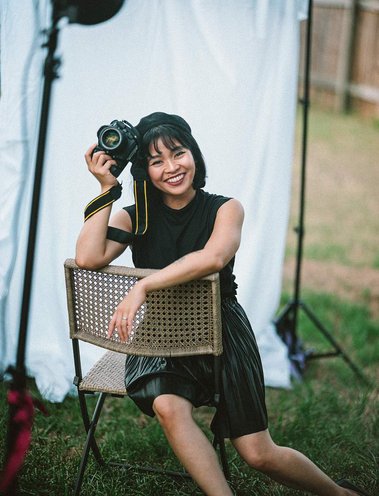 Having a photo session with me is NOT a quick one-and-boringly-done headshot, sporting a forced smile, and leaning on a faux stone countertop posing with stock-photography scenarios.
Our work together is a curated creative production that will capture your spark in every photo we take so you can attract the people who are committed to working with you because they genuinely see YOU.
Here's what you get working with me:
1. A Collaborative Clarity Call

When we connect, I listen to your thoughts and I guide you every step of the way by untangling any questions you might have and sharing my fun and collaborative professional photography process.
2. Creative Direction

Together, we create aesthetics and concepts customized to who you genuinely are. This is where I help you build a moodboard and shot list specially tailored to YOU and your brand.
Additionally, I can be your concierge for set design and fashion styling requests to truly make you feel like a celebrity.
3. Your professional photo shoot day!

I will support you by verbally and visually giving you suggestions with the best poses that feel like you. With our time together, you get to see the photos we take along the way. I intentionally create a safe space for you to express yourself candidly. Everyone is unique and we will illicit your own uniqueness in an authentic way!
4. Delivery of Your Dream Photos

Once our photo session is complete, I will send you a contact sheet containing a curated set of images that show the best looks that truly represent you.
The best part about this is you get to pick the images you want to receive back.
From there, your selection will go through professional retouching that enhances what we took together and completes the entire professional photography process.
You will look and feel amazing throughout our entire photo session
As a professional photographer, I make sure that every photo we take together makes you look effortless and amazing. I work with you to give you a prompts and options to pose that not only makes you look great, but makes you feel great as well.
You will gain clarity on what you need to do in order to get your dream photos
Working with me will help you gain confidence and understanding how to translate your words into visual representations of your energy and vibe. I guide you every step of the way and we'll even have a concrete plan of action even before you step in front of the camera.
We will build an organized and creative photo session that ensures you get all the photos you are envisioning
Having lots of ideas is great! Together, we can look at all your ideas and I will help you organize what's calling to you the most. As your professional photographer, I help you have a road map that clarifies what steps we can take to make you feel seen and heard.
Do I have to find my own photo shoot location?
I help you with location scouting! This is a part of our pre-production process during our Collaborative Clarity Call
What should I wear?
The quickest answer to this would be anything that makes you feel amazing! However, we will discuss this in detail during our Collaborative Clarity Call to ensure that what you're wearing speaks to who you are and what you are trying to share with your audience. We can also bring in one of my professional stylists to help!
I'm not a model, I don't know how to pose! Also, what do I do with my hands?!
It's certainly not a requirement to be a model in order to have a professional photo session. Working with me, I can give you suggestions and prompts that can help you pose and look effortless during our photo session together.
Let me help you create and receive photos that truly reflect what you want to share with the world.
Can't wait to connect with you soon! Joi@JoiConti.com